21 Okt

Seminar: Teaching the Entrepreneurs of the Future

NHL Stenden University in cooperation with the partners of the  Erasmus+ project BeyondScale would like to invite you to attend an international  seminar (online only). 

The interest of students to start a business during or after their degree program is increasing. The question is how this ambition can be integrated into the education of the future. How do students, lecturers and entrepreneurs think the road to self-employment can best be paved? How do education providers and entrepreneurs effectively use the increasing opportunities? And what can entrepreneurship-focused education programs in other European countries teach us?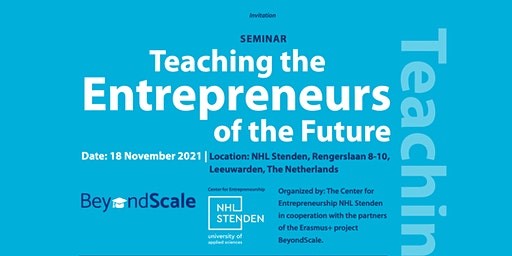 WHEN and WHERE:
November 18, 2021, 10:00 – 17:00 CET
NHL Stenden, Rengerslaan 8-10, Leeuwarden, The Netherlands (or participate online)
SPEAKERS:
Marc Otto

Member of Executive Board NHL Stenden University of Applied Sciences

Kai Bruns

PhD Startup Coach in the  MeerCommunity Startup Center

Peter Joore

Professor Open Innovation at NHL Stenden University of Applied Sciences
Jacqueline Rietveld Professor Futureproof Entrepreneurship, NHL Stenden University of Applied Sciences

Mathias Olthaar

Professor Green Economics & Process Optimization at NHL  Stenden University of Applied Sciences
Bart Derre Director of the Center for Entrepreneurship of the University of Ghent 

Magnus Klofsten

Professor  Centre for Innovation and Entrepreneurship at Linköping University,  Sweden
Steve Stevens Founder of Building Between Bridges
For more information on speakers and the seminar programme, please check out the invitation and the registration form.